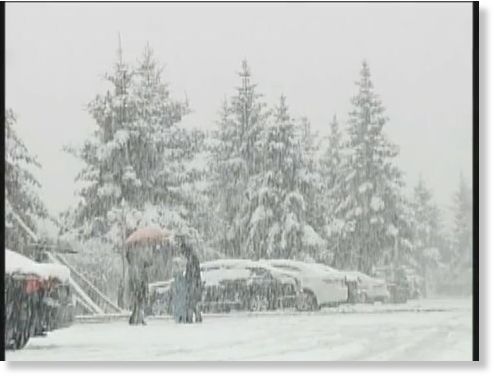 A heavy snowfall falling with northern cold front on Monday brought winter back to the Arxan City of north China's Inner Mongolia Autonomous Region while much of China bracing bright summer days.
The snow started to fall early Monday morning and stopped at around 11:00 am. Streets in downtown Arxan were covered by 10 centimeter thick snow and residents going outdoors were seen dressing in layers to keep themselves warm after a sharp drop in temperatures.
Number of cars hit on road apparently decreased due to the snowy weather. Those who hit on road slowed down their speed and drove cautiously.
Local border police division dispatched soldiers to help pull the cars stranded in snow to safety.
Municipal authorities have organized personnel to clear the tough heavy snow from streets since morning. Flights at the local airport were not affected as the snowfall continued only a short time.