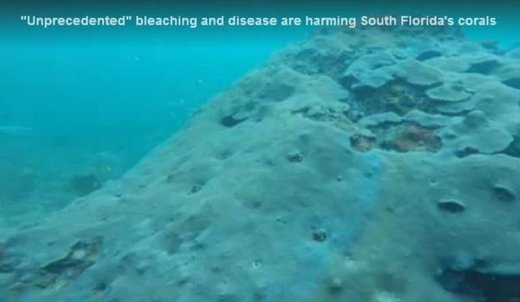 South Florida's corals are turning white and contracting fatal diseases in what's being called an unprecedented die-off across the region's reefs.
Off Hollywood, scientists witnessed the collapse of a minivan-sized coral colony that had started growing more than three centuries ago, when the Spanish ruled the peninsula.
As recently as September, live coral tissue covered 90 percent of the colony's surface, making it among the oldest living things in the state. By December it was almost completely dead
, said Brian Walker, a Nova Southeastern University research scientist, who found widespread mortality in corals in Miami-Dade and Broward counties.
"We saw a variety of diseases across the different corals," he said. "Some of the disease was recently active and had killed off a significant portion of the colony. It's wiped out entire species from parts of the reef. They're usually bleached white. You can see areas of just bare skeleton."