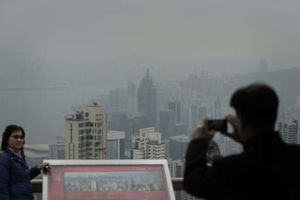 Hong Kong on Saturday recorded its hottest day since authorities began taking temperature readings 130 years ago, due to the influence of a nearby typhoon.
The daily maximum
temperature
hit 36.3 degrees Celsius
, the Hong Kong Observatory said, with higher temperatures recorded in some parts of the city earlier in the day.
A layer of haze hung over the metropolis of seven million, as people wielding electric fans and umbrellas tried in vain to beat the boiling heat.
"This is a new record," a Hong Kong Observatory spokesman told AFP.