Extreme Temperatures
---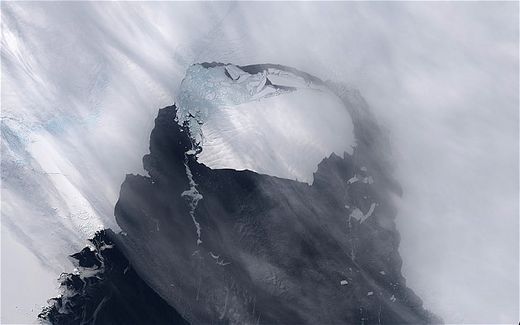 Scientists are monitoring one of the largest icebergs in existence, after it broke off from an Antarctic glacier and began to head into the open ocean.
The iceberg covers about 255 square miles, making it roughly six times the size of Manhattan - and is up to 500 meters thick.
Known as B31, glacial crack that created the iceberg was first detected in 2011 but the iceberg separated from Antarctica's Pine Island Glacier in November.
NASA glaciologist Kelly Brunt said that the iceberg is not currently presenting a danger, but needs to be continually monitored.
"It's one that's large enough that it warrants monitoring. There is not a lot of shipping traffic down there. We're not particularly concerned about shipping lanes. We know where all the big ones are."
---
US temperatures through April 23 are the third coldest on record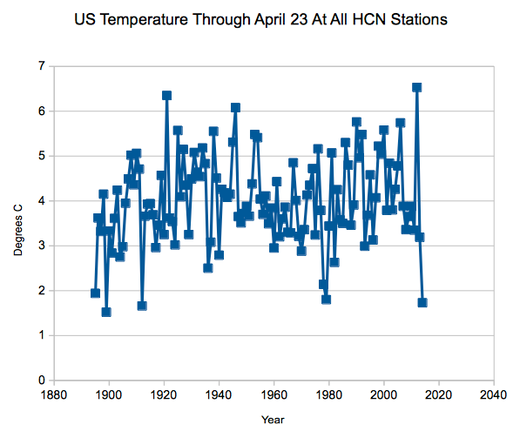 Generated by :
./ghcn.exe US23042014.txt through=0423 > US23042014_through_0423.csv
YearTDeptUS.png (688×531)
---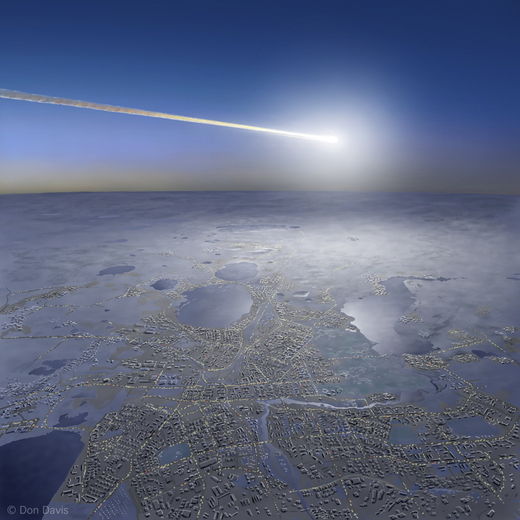 According to the
Boston Globe
, the United Nations has issued a new climate "tipping point" by which the world must act to avoid dangerous global warming.
The
Boston Globe noted on April 16, 2014
: "The world now has a rough deadline for action on climate change. Nations need to take aggressive action in the next 15 years to cut carbon emissions, in order to forestall the worst effects of global warming, says the Intergovernmental Panel on Climate Change."
Once again, the world is being warned of an ecological or climate "tipping point" by the UN.
As early as 1982, the UN was issuing a two decade tipping point.
UN official Mostafa Tolba, executive director of the UN Environment Program (UNEP), warned on May 11, 1982
, the "world faces an ecological disaster as final as nuclear war within a couple of decades unless governments act now." According to Tolba in 1982, lack of action would bring "by the turn of the century, an environmental catastrophe which will witness devastation as complete, as irreversible as any nuclear holocaust."
---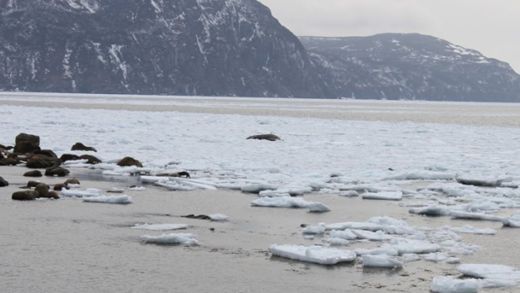 The Canadian Coast Guard has issued a new report of dead whales off western Newfoundland.
Mariners have been warned about four whale carcasses at different locations at the entrance to Bonne Bay.
It has not said what kind of whales have died.
Earlier this month, at least nine blue whales died in ice in the Gulf of St. Lawrence.
In March, dozens of dolphins were killed when they were crushed by ice near Cape Ray, on Newfoundland's southwest coast.
---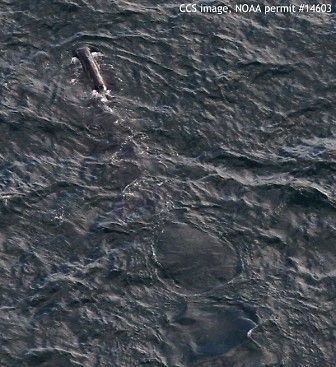 Experts call the sighting rare and remarkable
It is a remarkable sighting, according to experts from the Center for Coastal Studies (CCS) in Provincetown. Last Friday marks only the second time in recorded history that a bowhead whale has been seen so far south in the waters of the Atlantic. The whale was spotted swimming and feeding with right whales on Cape Cod Bay on April 11, according to a CCS release.
The first time a bowhead was spotted in our waters was two years ago, when one was observed by CCS researchers
off the Outer Beach in Orleans in August 2012.
---
Stephanie Garlock
Grist
Wed, 16 Apr 2014 07:07 UTC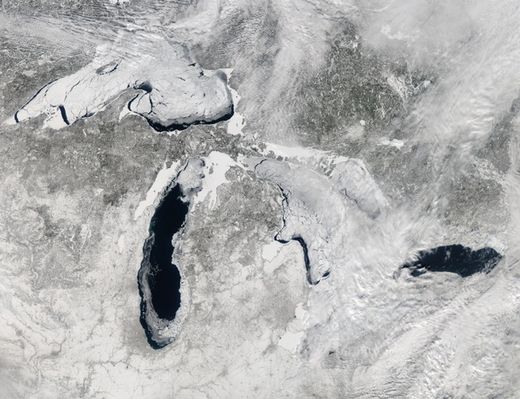 Over the winter, as polar vortices plunged the U.S. Midwest into weeks of unceasing cold, the icy covers of the Great Lakes started to make headlines. With almost 96 percent of Lake Superior's 32,000 miles encased in ice at the season's peak, tens of thousands of
tourists flocked to the ice caves
along the Wisconsin shoreline, suddenly accessible after four years of relatively warmer wintery conditions.
The thing is, all of that ice takes a long time to melt. As of April 10, 48 percent of the five lakes' 90,000-plus square miles were still covered in ice, down from a high of
92.2 percent on March 6
(note that constituted the highest levels recorded since 1979, when ice covered 94.7 percent of the lakes). Last year, only 38.4 percent of the lakes froze over, while in 2012 just 12.9 percent did - part of a four-year stint of below-average iciness.
---
Almost one month into spring, and the U.S. Coast Guard is still breaking up ice around the Great Lakes.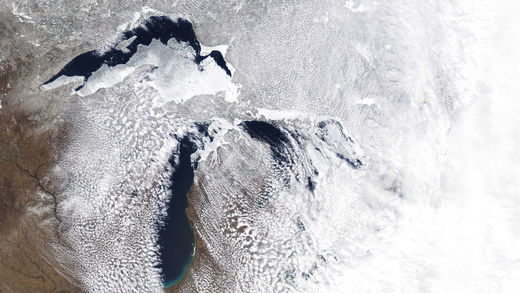 According to the National Oceanic and Atmospheric Administration, more than 64 percent of Lake Superior was covered in ice as of Wednesday. Lake Michigan was 21 percent covered, Lake Huron was 31 percent covered, Lake Erie was 14 percent covered, and Lake Ontario was 2 percent covered. The entire Great Lakes system was 37 percent covered in ice.
VIDEO. #USCG cutters break a way into #Marquette Harbor, helping local mining industry avoid a shutdown. #Michigan buff.ly/Qd6Fq4 -
USCG Great Lakes (@USCGGreatLakes) April 16, 2014
The Coast Guard on Wednesday released video of the cutter Morro Bay carving up ice in the harbor in Marquette, Mich., nestled along the shores of Lake Superior.
---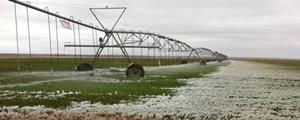 Last Tuesday, April 15, was the coldest "Tax Day" nationwide on record. Hard freezes extended as far south as northern Texas. Mid-April snows were seen throughout the Corn Belt states. Columbus, Ohio had nearly four inches of the white stuff on Tuesday, its heaviest snowfall ever for so late in the spring season. Traces of snow were reported in the Texas Panhandle, Arkansas and Tennessee. Even northern Louisiana had a few flakes. Detroit, Michigan set a seasonal snowfall record on Tuesday.
A hard freeze in the southern Great Plains on Tuesday produced temperatures between 21 and 24 degrees at Amarillo, Dalhart, Perry and Lubbock, Texas. Near Gage, Oklahoma, one rancher reported 18 degrees. Ponca City, Oklahoma dipped to a record low of 21 degrees for April 15.
In Kansas, the nation's leading wheat producing state, already plagued by winterkill this harsh winter of 2013-14 that refuses to end and parching drought, there were reports of morning lows near 15 degrees both Monday and Tuesday. It was a frigid 13 degrees at Valentine, Nebraska.
Jointing wheat was damaged by the record cold early this past week in Kansas, Oklahoma and Texas,
especially in those areas where the mercury plunged into the teens and lower 20s for several hours. Any wheat heading out can be at risk even at readings near 30 degrees. Fortunately, there was very little wheat heading out despite recent 90 degree temperatures in the southern Great Plains.
---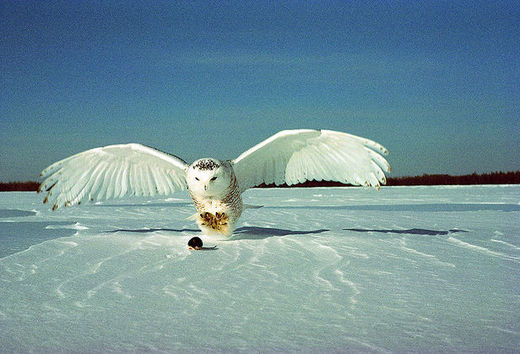 It is time for many bird species to begin their spring migrations and Snowy Owls are among the many species that migrate. Although most birds migrate without any trouble
it seems that more and more snowy owls are being found dead along their migration paths.
While most ornithologists believe the recently reported
Snowy Owls deaths
are not related and only accidents, many are still studying the
dead birds
to be sure.
When a Snowy Owl wearing a GPS tracking device was found dead near Martha's Vineyard, many people became concerned and wanted to know why this bird and so many others were dying. Tufts University veterinary center and Norman Smith, who is an expert on Snowy Owls, decided to find out what caused the bird's death. They named the bird Sandy Neck.
The team examined the bird and released a report with their findings. The report said,
"The necropsy at Tufts showed no trauma except for a minor deep bruise in her left pectoral, no food in the proventriculus (stomach) or gizzard, and no signs of disease or unusual parasites. As Gus (Ben David) noted, she was in otherwise excellent condition - great muscle mass and fat deposits. Nor was there any water in the respiratory system. Mark Pokras (a veterinarian and professor at Tufts) said if he had to guess, she got swamped, swam to shore and went down from hypothermia - but also couldn't rule out drowning."
---