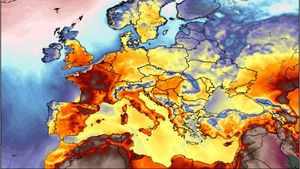 Fires linked to hot, dry weather are disrupting the early stages of this year's grain harvest in France, the European Union's top producer, destroying hundreds of hectares and triggering fire prevention measures in some areas.
Wednesday saw record temperatures for the time of year
either side of 40 degrees Celsius in several parts of the country as a heatwave intensified, adding stress on crops in central and northern France that faced a dry spell this spring.
Fires can be sparked by combine harvesters and quickly burn crops as well as the straw left after crops are cut.
In the Eure-et-Loir administrative department, which covers part of the Beauce plain that is one of France's biggest grain belts, local authorities on Wednesday ordered farmers to plough 10-metre-wide borders around fields to prevent fires spreading.
The department had recorded 140 field fires between Friday and Tuesday, causing the destruction of 606 hectares, it said in an administrative order.
Farmers reported on Twitter fires in other major grain regions including Burgundy, Picardy and Seine-et-Marne east of Paris that also burned several hundred hectares.
Fires so far have mostly affected winter barley as it is the first field crop to be gathered in the French harvest cycle.
The impact remained minor for now in relation to 1.3 million hectares of winter barley and 9.6 million hectares of cereals sown for this year's harvest in France.
But the loss of crops to fire could further trim harvest prospects after forecasters have already lowered yield estimates following the recent dry spell.
The heatwave in France is expected to last until early next week.