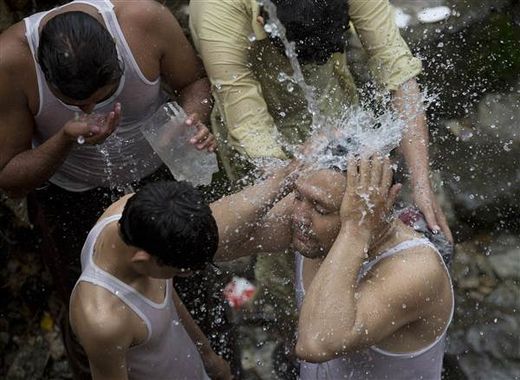 A heat wave raging through southern Pakistan has claimed more than 700 lives, officials said, with witnesses describing victims "dropping dead" on the streets.
Temperatures have exceeded 110 degrees in recent days, and thousands of people have been left to face the heat without electricity amid widespread power outages.
At Karachi's largest hospital, more than 150 people have been admitted for heatstroke since Monday, according to Ali Nawazish, the emergency room registrar at Jinnah Postgraduate Medical Center.
"Some patients have come to us with their families, some have been found by ambulances, and some families have come here looking for their loved ones who they fear are dead or affected," Nawazish said. "It's chaos."
Ramzan Chippa, who runs a volunteer ambulance service with a fleet of 300, told NBC News that all his vehicles are committed and that most of their relief activity is taking bodies to morgues.
"Most of the bodies we are recovering are people dying on the streets. They're just dropping dead," said Chippa. "Graveyards have filled up."
The army has joined the relief effort, setting up heatstroke relief camps in Karachi and five other cities in Sindh province. But relief systems are stretched across the city, and small, angry skirmishes have erupted in protest.
A deputy commissioner in the Korangi suburb of Karachi admitted that public relief services are stretched to their limits.
"People are screaming at us on our helpline to get help them, and when we do, they fight to get on the ambulance," he said.
More opposition parties, including the Karachi-based Muttahida Qaumi movement, are blaming the federal government for the crisis, which they say has been compounded by massive power cuts all across Sindh province.
Dildar Shah lives in the Karachi suburb on Malir and has lost two neighbors to the extreme conditions. "This is like the Day of Judgment," he said. "It seems all of us will die in this heat together."