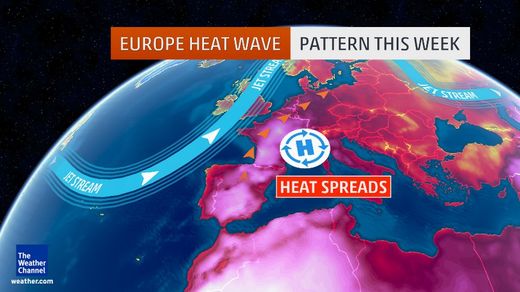 While
record-smashing heat is searing the Northwest United States and southwest Canada
, a European heat wave is smashing monthly records, becoming more widespread in Europe, and may last in some areas into next week.
Wednesday afternoon,
the temperature at London's Heathrow Airport skyrocketed to 36.7 degrees Celsius
-- 98.1 degrees Fahrenheit --
a July heat record
not only there but for anywhere in the U.K.,
according to the U.K. Met Office
.
The previous U.K. July heat record was set almost nine years ago -- 36.5 degrees C in Wisley on July 19, 2006. It was also the hottest day in Wimbledon history, topping the previous record of 34.6 degrees C on June 26, 1976.
Paris, France saw its temperature soar to 39.7 degrees Celsius -- 103.5 degrees Fahrenheit -- Wednesday. This is the
second hottest reading there dating to 1873
,
according to Météo-France
.
Parts of Belgium and The Netherlands also sweltered in 35-degree Celsius -- 95 degrees Fahrenheit -- heat Wednesday.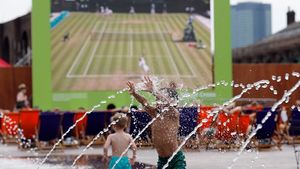 Highs in parts of southern France topped out in the 100s on Tuesday. Cazaux, France,
hit 104 degrees on Tuesday afternoon
and Dax, France,
topped out at 100 degrees.
Earlier this week,
heat records were toppled in parts of Spain
.
Madrid (central Madrid) set a new June record high for the second day in a row Monday, reaching 39.7 degrees Celsius -- 103.5 degrees Fahrenheit -- edging out their previous June record of 39.1 degrees Celsius set Sunday.
Monday afternoon, Madrid's Adolfo Suarez Madrid-Barajas Airport pushed up to 40 degrees Celsius (104 F), a first for June in records dating to 1945. According to AEMet, four other locations in Spain with records dating to at least the 1950s tied or set new June heat records Monday.
Cordoba, in southern Spain, reached a sizzling 43.7 degrees Celsius Sunday (110.7ºF).
This heat is now spreading and it looks like it'll last through the weekend -- if not longer.
The culprit is an area of high-pressure aloft over and near the Iberian Peninsula, expected to expand as far east as the southern Baltics, Belarus and western Ukraine, and as far north as southern Scandinavia.
Under this dome of high pressure aloft, dry, sinking air and generally light winds will allow stifling heat to build.
Fortunately for the U.K., a cold front will sweep in by Thursday, bringing to an end their record-shattering heat. Their friends across the English Channel won't be so fortunate.
Code orange heat alerts
("vigilance orange") have been issued by Meteo France for a large swath of central and northeast France. Code orange is the second-highest level on the four-color hazard scale adopted by national meteorological services in most European countries.
"Europeans, and the French in particular, have been painfully aware of the dangers of extreme heat since the killer heat wave of July 2003," said weather.com senior meteorologist Nick Wiltgen. According to the United Nations,
an estimated 30,000 Europeans (14,000 in France alone) died in that heat wave
, making it the deadliest natural disaster of the past 50 years in Europe.
After a brief break Thursday, mainly in far northwestern France, the heat will return Friday into the upcoming weekend, and could even linger into early next week. Highs in Paris will hover between 34 to 38 degrees Celsius (93 to 100 F) Thursday through Saturday.
The worst and most persistent heat will spread from Spain and France into Belgium, Germany, Switzerland, Austria, the Czech Republic, Slovakia, Hungary, Poland, western Ukraine, Belarus and Lithuania through early next week.
Madrid, Spain will see temperatures near 40 degrees Celsius (104 degrees) Friday thorugh the weekend.
A cold front should bring some heat relief by early-mid next week from northern France into The Netherlands, Belgium, Germany, Poland, the Czech Republic, southern Scandinavia and the Baltics.
It may also take the top off the extremity of the heat in areas farther south.
"The latest (long-range forecasts) suggest the ridge and heat will persist across central Europe and Iberia through the month (of July)," said Leon Brown, chief meteorologist based in the U.K. for The Weather Company.
If your travel plans take you to Europe over the next 7 to 10 days,
be prepared for the heat
. Limit exposure during the hottest times of the day, take frequent breaks, and drink plenty of water to stay hydrated.