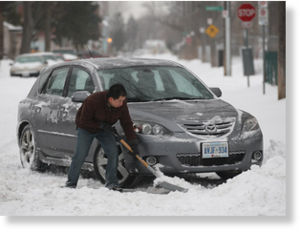 Boston - Heavy snow and strong winds may blow across the Northeastern coast Sunday and drop as much as 10 inches on parts of the region still buried by last week's storm.
A winter storm warning is in effect for the Boston area, where the National Weather Service said 4 to 8 inches of snow could fall by Sunday night. Snow up to 8 inches also is forecast for Cape Cod, Martha's Vineyard and Nantucket.
Strong winds are expected to accompany the snow, gusting up to 55 mph. The weather service said that by evening, temperatures with the wind chill could feel like minus 1.
Early Sunday, New York officials issued a high-wind warning for the Tappan Zee Bridge, reducing the speed limit to 35 mph and prohibiting empty trailers and motorcycles on the bridge. All trucks, trailers, and buses were advised to consider an alternate route.