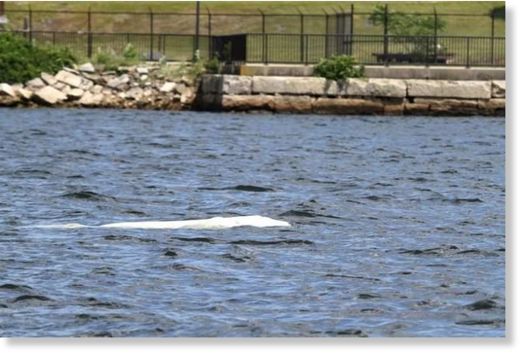 In Connecticut, we're used to seeing Beluga whales at Mystic Aquarium, but residents in Fall River, Massachusetts are getting an unusual sight in an unusual place. A Beluga whale was spotted in the Taunton River over the past several days.
"It's very rare to see a Beluga by itself this far south,
" Dr. Tracy Romano of Mystic Aquarium told WNPR. "It was last sighted here a week ago, on the 18th."
Romano, Mystic Aquarium's Executive Vice President of Research and Zoological Operations, is leading the team while it looks for the whale in the Taunton River. She said
Belugas prefer Arctic and sub-arctic waters
, and travel in pods. "
This unusual sighting in our own back yard is anomalous behavior for a Beluga
," she said, "and we would like to find out why."