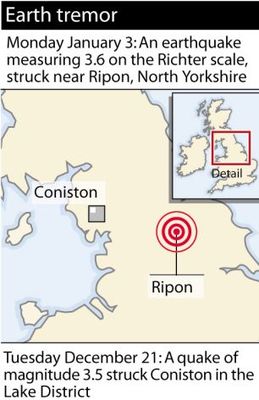 Earthquake measured 3.6 on the Richter scale - People living near the epicentre describe a 'rumbling' noise
The second earthquake in a fortnight rocked the North of England last night.
People near the epicentre in Ripon, in North Yorkshire, reported hearing what they described as an 'explosion' or a 'rumbling' when the quake hit.
It measured 3.6 on the Richter scale and experts estimate the tremor happened four miles below ground level.
Just a fortnight ago Coniston, in Cumbria, was struck by tremors measuring 3.5.
Last night's earthquake happened just after 9pm and caused worried people to run from their homes to safety.
It was felt across Cumbria, Greater Manchester and West Yorkshire.
Chris Allinson, 17, was watching television with his family in Ripon when the quake rattled their home.
The A-level student, who is studying at Giggleswick School, said: 'I heard a loud rumbling like the sound of a big tractor passing the house outside.
'Things started shaking and the dogs started barking. It got louder and louder and I jumped up to get outside.
'Then there was just this rush of sound like a snowdrift falling from a tiled roof, and after that, silence. We stood outside and stared at each other.'