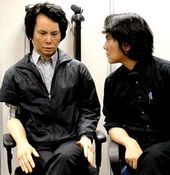 I've lately been thinking about the "continuous vs categorical" debate in relation to psychopathy. I just started reading a book called
Thinking about Psychopaths and Psychopathy
edited by Harvard professor Ellsworth Lapham Fersch. It's a collection of questions and answers from seminars he's given on psychopathy, with contributions by various academics. Based on Fersch's introduction, it looks promising and insightful.
However, I wonder if Fersch really "gets it". While he talks about the importance of psychopathy quite eloquently and identifies the problems inherent in the conflation of psychopathy with antisocial personality disorder, there is a question and answer in the first chapter that is puzzling. (It is possible one of his colleagues answered this question, as the individual author is not listed for each section.)
In this question on the debate between psychopathy as either categorical (i.e. you either have it or you don't, like Turner's syndrome) or continuous (the extreme end of traits shared by everyone, as in someone with very high intelligence), he firmly takes the "continuous" side. However, I get the impression that he does so without understanding the crux of the matter, or the implications of such a position.