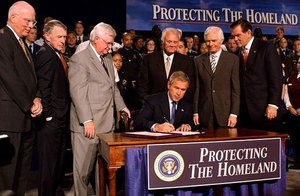 Stop the Pathocrats from signing away our rights and our lives!
On a recent trip abroad a friend was talking to a street vendor. "Where are you from?", asked the vendor. "America", our friend replied. The vendor grimaced in a way that suggested at once pity and distaste. "I'm not responsible for Bush!" our friend protested. The vendor summed up his feelings in one word, "Fascists". Our friend could hardly disagree, "Fascist pigs!" he exclaimed.
While many foreigners can see the current unmasking of an overtly fascist form of government in the USA, too many home-grown Americans cannot. Over six years of incessant "terror threat" propagandizing from the US government and the mainstream media has hystericized the American mind to the point that the ordinary citizen is no longer able to think clearly and differentiate lies from truth and fascism from democracy.