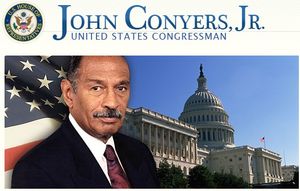 If you are looking for some good bedtime reading full of juicy tales of crime and corruption, cliff-hanging episodes, fiendish villains, damsels in distress, besieged heroes, complex threads of action and more, you don't have to look any farther than the recently published Conyers Report:
Reining In the Imperial Presidency - Lessons and Recommendations Relating to the Presidency of George W. Bush.
It took me a few days (what with doing other things) to get through its over 400 pages (including appendices, references and notes), and I can tell you that it is some seriously page-turning stuff. This is especially interesting considering that it could have been a very dry document, being put together by the House Committee on the Judiciary.
But it isn't dry. Just reciting the plain facts (with notes and references) of the presidency of George W. Bush lays bare the pathology of American politics in a way that no amount of dramatic writing could improve upon. I highly recommend reading it in full!
Actually, I was going to try to condense it for the site here but there was just SO much great, turgid prose that could NOT be left out that, by the time I was done "condensing," I still had over 200 pages of the main text! I kid you not, you will NOT believe some of the stuff that is in this document!
Of course, it's not like we didn't know this stuff already - it's sure been gone over thoroughly on the alternative press (and somewhat, in the mainstream press) for the past 8 years - but
the fact that it now exists as an official document produced by the U.S. House of Representatives turns all that "alternative news" into a different kind of data. It's official now. I mean, really REAL.
Reading this report does give one a bit of hope that there ARE individuals in the murky halls of government who can actually see what is going on, have normal human reactions to it (like being appalled, disgusted, shocked, etc) and declare that such behavior is absolutely unacceptable in any way, shape, form or fashion. The problem is, as I mused while reading it, exactly what effect can it possibly have in a conclave of pathological types where the inmates have taken over the asylum? Probably not much.