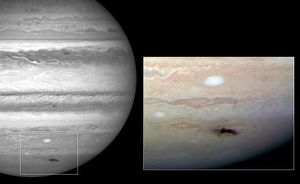 When it happened in 1994, researchers were quick to reassure us what a once-in-a-millenia event it was.
One paper
"estimated that the time interval between impacts of 0.3 km diameter comets on Jupiter is approximately 500 years, whereas the interval between the impact of 1.6 km comets is about 6000 years." How appropriate then that the Universe should mock us wonderfully by arranging for the return of a similar-sized impact event
exactly
15 years later!
But why should anyone be surprised? Just how long has NASA known about the high risk of impacts? While the 40 anniversary of the moon landing was being celebrated this month
we turned to Victor Clube
for long forgotten information about the moon landings:
"The Apollo astronauts planted seismometers on the Moon, primarily to measure Moonquakes. But they got diverted from their business by the discovery that objects, which they didn't expect at least, were hitting the Moon. These seismometers regularly recorded large bodies hitting the Moon like the meteoroids which I've just been describing. And this diagram is an illustration of the record of the incidence of these meteoroids, integrated over a period of about seven years until NASA switched the machine off- in exasperation, apparently, because they didn't think it was telling us anything very interesting.



Nevertheless, for seven or eight years they accumulated this data, and what you see here is the integral result of the observations, per day, through the years, throughout the whole of this seven or eight year period. And, of course, it looks a little like the skyline of Oxford, where I come from, but never mind, the prominent thing is that you see one remarkable peak in the middle which is, in fact, centered on about the 30th June. And all that peak, in fact, coincides with the products of one year's observing. So in that one year, 1975, in fact, we had a flood of objects hitting the Moon, which actually were also hitting the Earth, and they all were present, apparently, in the same stream, as was responsible for the Tunguska object in 1908 which, as you recall, also arrived the end of June. In fact, this end of June is an interesting time. It's the time when we pass through the Taurid stream, going in one direction. And the other direction is, in fact, the beginning of November, and you can see some signs of that in this same diagram."