Mysterious lights spotted hovering in the night sky caused quite a stir in Tunbridge Wells this week.
Between 20 to 40 orange spheres baffled residents throughout the town as they witnessed the strange phenomenon.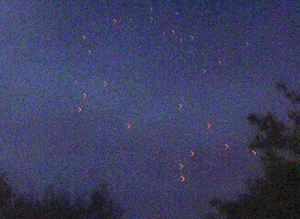 ©Kent and Sussex Courier
The glowing orbs appeared at around 10pm on Saturday rising slowly into the clouds before eventually vanishing.
Tony Barber, of Farnham Lane, in Langton Green saw the spectacle after his neighbour alerted him. He said: "They were rising into the sky for about 20 minutes then they disappeared. We went outside and watched and tried to guess what they were. We couldn't really come up with anything except they were huge hot air balloons."