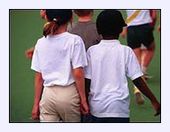 Unhealthy lifestyles and unstable family environments may be contributing to a fall in the age that girls reach puberty, research suggests.
Psychologist Dr Aric Sigman found girls are reaching puberty 18 months earlier than their mothers, and almost two years earlier than their grandmothers.
He found girls currently start puberty at an average of 10.25 years of age.
His findings echo previous research suggesting 'precocious puberty' is a growing trend.