The economic impact of climate change will cost a number of U.S. states billions of dollars, and delaying action will raise the price tag, concludes the latest series of reports produced by the University of Maryland's Center for Integrative Environmental Research (CIER).
The new reports project specific long-term direct and ripple economic effects on North Carolina, North Dakota, Pennsylvania and Tennessee. In most cases, the price tag could run into billions of dollars.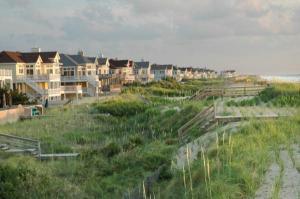 ©iStockphoto/Joelle Gould
A row of million dollar houses in Corolla on the outer banks of North Carolina. The most significant impact of climate change to North Carolina is likely to be felt along the coastline, but damage to agriculture, forestry and manufacturing could also occur with total costs running into billions of dollars.
The studies combine existing data with new analysis and have been conducted by CIER in conjunction with the National Conference of State Legislators. Last July they released similar studies on Colorado, Georgia, Kansas, Illinois, Michigan, Nevada, New Jersey and Ohio. (link to state-by-state reports below.)
"State and local communities would do well to prepare for a cascade of impacts on many of their most basic systems and services," says Matthias Ruth, principal investigator and director of the Center for Integrative Environmental Research at the University of Maryland. "From sewers to aquifers, highways and health systems, climate change will rewrite communities' infrastructure needs. Quick action will be expensive, but delayed action will cost even more."