The threat of serious flooding along England's eastern coast receded Friday after officials said the main tidal peak had passed, although storms were still causing problems elsewhere in Europe.
Hundreds of people who were evacuated from their homes were allowed to return as a spokesman for Britain's Environment Agency said: "The risk of flooding has diminished and the outlook is for tide levels to fall."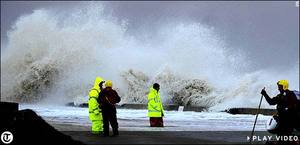 ©telegraph.co.uk
Giant waves pound the seafront at Walcott near Great Yarmouth.