Sight and hearing are the most important senses for birds - this is at least the received wisdom. By studying bird DNA, however, researchers at the Max Planck Institute for Ornithology, along with a colleague at the Cawthron Institute in New Zealand, have now provided genetic evidence that many bird species have a well-developed sense of smell (Proceedings of the Royal Society B, 16.07.2008).
The sense of smell might indeed be as important to birds as it is to fish or even mammals. This is the main conclusion of a study by Silke Steiger (Max Planck Institute for Ornithology) and her colleagues. The sense of smell in birds was, until quite recently, thought to be poorly developed. Recent behavioural studies have shown that some bird species use their sense of smell to navigate, forage or even to distinguish individuals. Silke Steiger and her colleagues chose a genetic approach for their study. Their research focused on the olfactory receptor (OR) genes, which are expressed in sensory neurons within the olfactory epithelium, and constitute the molecular basis of the sense of smell. The total number of OR genes in a genome may reflect how many different scents an animal can detect or distinguish. In birds such genetic studies were previously restricted to the chicken, hitherto the only bird for which the full genomic sequence is known.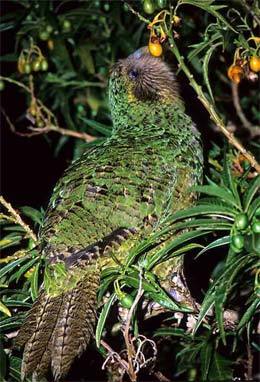 ©Don Merton
The nocturnal Kakapo, one of the nine bird species in the study, probably recognises fruit according to their aroma. The same applies to the brown kiwi of New Zealand.