A study by a group of prominent seismologists suggests that a pattern of subtle but active faults makes the risk of earthquakes to the New York City area substantially greater than formerly believed. Among other things, they say that the controversial Indian Point nuclear power plants, 24 miles north of the city, sit astride the previously unidentified intersection of two active seismic zones.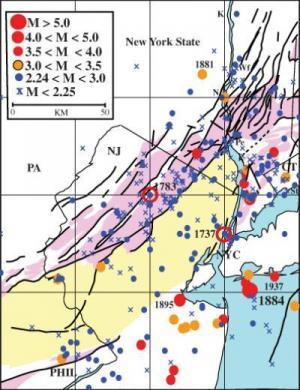 ©Sykes et al.
All known quakes, greater New York-Philadelphia area, 1677-2004, graded by magnitude (M). Peekskill, NY, near Indian Point nuclear power plant, is denoted as Pe.
The paper appears in the current issue of the
Bulletin of the Seismological Society of America
HERE
.