At least four people have been killed and dozens injured after a series of powerful earthquakes hit eastern Indonesia, officials say.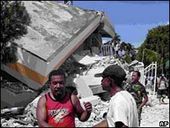 The strongest tremor, with a magnitude of 7.6, struck north of the city of Manokwari in West Papua province at 0443 (1943 GMT on Saturday).
It was followed by another big quake and a string of aftershocks.
Witnesses said the tremors triggered mass panic in Manokwari, where several buildings were flattened.