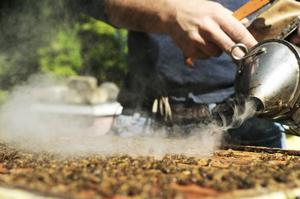 ©Unknown
Michael Simone squeezes smoke on the top of a bee colony before removing the honeycomb frame. Simone hypothesizes that the smoke disrupts the bees' chemical cues, confusing them and diverting their attention from the intruder.
Disease, mites and Colony Collapse Disorder all are threats to honey bee colonies, and helped cause 35 percent of U.S. bee colonies to die last winter alone.
Entomology Professor Marla Spivak is trying to change the 20-year decline in honey bee populations.