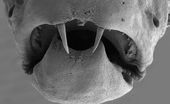 A newly discovered minnow species called the dracula fish apparently spent 30 million years redeveloping superficial fangs after losing its vampire-looking teeth earlier in its evolution.
The tiny freshwater fish finding may reveal more about how lost structures re-evolve, as well as how evolution can cause some species to mature early. Scientists named the fish
Danionella dracula
in honor of its large, tooth-like jaw structures.
"This fish is one of the most extraordinary vertebrates discovered in the last few decades," said Ralf Britz, a fish researcher at the Natural History Museum in London, UK.
Britz found the minnow in a stream in northern Myanmar, during a collecting trip. The transparent fish measures somewhat less than one inch long and represents one of the smallest fishes and vertebrates.