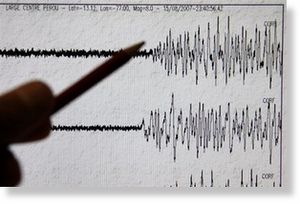 Residents of Northern California's Humboldt County were rocked by a magnitude-6.0 earthquake Thursday, but officials said there were no immediate reports of major injury or damage from the second large temblor to hit the area within a month.
The U.S. Geological Survey reported a magnitude-6.0 quake struck at 12:20 p.m. about 35 miles northwest of the community of Petrolia and nearly 50 miles west of Eureka. The shaking was felt within a 150-mile radius, as far north as southern Oregon and as far south as Sonoma County, according to the USGS Web site.
Local officials and residents reported feeling a rolling sensation that caused items to fall from walls and shelves. Many said the movement didn't feel nearly as severe as the magnitude-6.5 quake that struck the same region Jan. 9 and caused more than $40 million in damage and one serious injury - an elderly woman who fell and broke her hip.