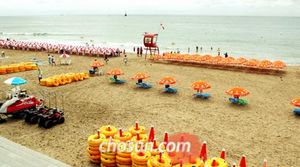 Korea is experiencing atypical cool weather in the middle of summer, which coupled with the summer rainy season has translated into fewer vacationers visiting the country's beaches.
The Korea Meteorological Administration on Thursday said the average temperature during July 18-24 was between 20 to 24 degrees Celsius or 2-4 degrees below average, while the average daily high was between 23 and 28 degrees or 2-5 degrees lower than average.
In Busan, where Korea's most popular beaches are located, temperatures did not rise above 30 degrees for a single day in July, as against seven days in July last year. From July 1 until Wednesday, 4.38 million people visited the seven beaches in downtown Busan, less than half the numbers seen during the same period last year. Vendors at the beaches have been hit with an unprecedented slump in sales during peak season. Haeundae Beach, which opened on July 1, saw 1.72 million visitors this month, just 48 percent of the number seen during the same period last year. A total of 1.24 million people visited Gwangalli Beach, just 47 percent of last July's visitors.