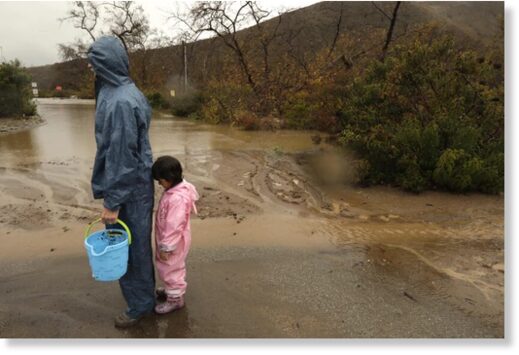 A slow-moving winter storm hovering over Los Angeles made a mess of conditions Thursday — dropping record rainfall in many spots, prompting the closure of multiple major roads and highways, spurring evacuations near wildfire burn scars and forcing water rescues, officials said.
At least 50 people had to be rescued from the Leo Carrillo Campground in Malibu after significant rainfall sent a torrent of muddy water through the area, according to Los Angeles County Fire Department spokesman Geovanni Sanchez.
Apple Valley resident Keith Elvert, 37, had been camping in the area with his wife, children, parents and niece since Tuesday. When he opened the door to his trailer around 3 a.m., "there was two feet of water running outside the trailer pretty swiftly," he said.
"It was pretty scary — there were some branches and debris, and it was real muddy brown," Elvert said. "You appreciate the power of the water at that point."