Meteorite hunters are having a field day - literally - following the discovery of dozens of fragments from a 10-tonne space rock that exploded over the Canadian prairie on 20 November.
A large search team will scour the area on Wednesday in hopes of finding more pieces and mapping out the extent of the debris field before the terrain is covered in snow. "The quicker we get them, with the least amount of water contact, the better," says Ellen Milley, a graduate student at the University of Calgary.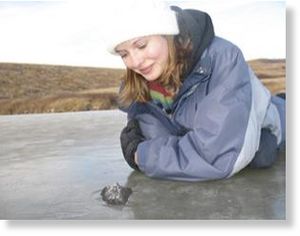 As of Monday evening, she and colleagues had picked up more than 60 meteorites from a 24-square-kilometre patch of windswept grassland and frozen waterways near the town of Marsden, Saskatchewan.
Amateur treasure seekers who flocked to the area in droves over the weekend have walked away with many more pieces, including a 13-kilogram chunk found by a father and son from Alberta.