Survivors saw relatives swept away by huge waves or buried by debris after a landslide hit a rain-swollen river, triggering what officials called a "mini-tsunami" that wiped a hamlet off the map and left at least 16 people missing.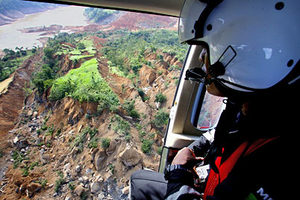 ©Alfredo Estrella, AFP / Getty Images
A helicopter pilot surveys the damage to San Juan Grijalva in the Mexican state of Chiapas Monday after a landslide. The area is already reeling from last week's floods.