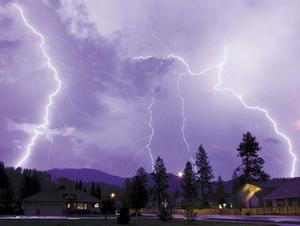 If someone said you can understand rain patterns and the dynamics of the atmosphere by studying magnets and magnetism - and therefore make better predictions of the effects of global warming - would you think he's crazy? Brilliant? The atmosphere spans the entire globe, while a magnet fits easily in your hand; can they really be so similar?
Ole Peters, a 27-year-old physicist with expertise in "critical phenomena" and "self organized criticality" - which he acknowledges is "a bit of a rogue field" - doesn't sound the least bit crazy.
In the June issue of the respected journal
Nature Physics
, he and J. David Neelin, UCLA professor of atmospheric and oceanic sciences, report that the onset of intense tropical rain and magnetism share the same underlying physics.
Peters and Neelin analyzed statistical properties of the relationship between water vapor in the atmosphere in the tropics and rainfall, using remote sensing from a satellite over the tropical oceans.
"We studied properties of that relationship that are also observed in equivalent quantities for systems with 'continuous-phase transitions' like magnets," said Peters, a research scientist with UCLA's Institute of Geophysics and Planetary Physics and a visiting scientist at the Santa Fe Institute.
"The atmosphere has a tendency to move to a critical point in water vapor where the likelihood of rain dramatically increases. The system reaches a point where it's just about to rain; it's highly susceptible. Any additional water vapor can produce a large response."