Earth Changes
---
William Walker
The Mirror
Fri, 09 Apr 2021 03:31 UTC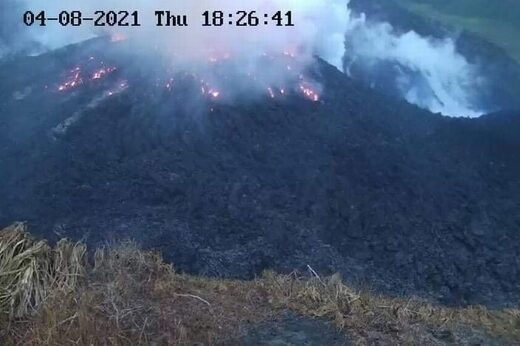 A Caribbean island has issued a red alert and ordered an evacuation after warnings of an 'imminent' volcanic eruption.
Residents of St Vincent have been told to leave their homes due to the 'significant increase in the risk of an eruption.'
The government said on Thursday that the danger centres on the La Soufriere volcano in the northern region of the island.
Ralph Gonsalves, Prime Minister of St. Vincent and the Grenadines, said people living in so-called red zones in the northwest and northeast of the island needed to leave immediately as the volcano pumped out more smoke and steam.
"There is now in the country an evacuation order," he said in a message broadcast on social media.
St. Vincent's National Emergency Management Organisation (NEMO) said on
Twitter
there was now a "substantial prospect of disaster" due to the pick-up in La Soufriere's seismic activity.
---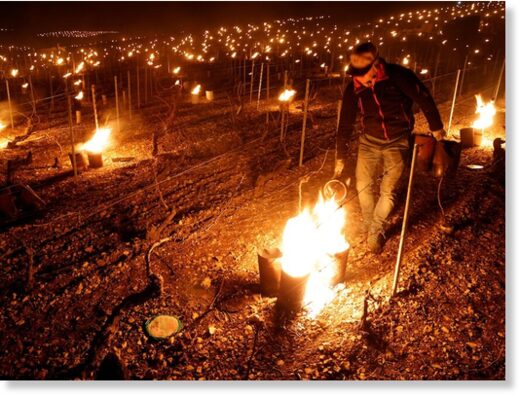 French winemakers have lit candles and burned bales of hay to try to protect their vineyards from sharp spring frosts, with the forecast of more cold nights this week raising fears of serious damage and lost production.
Temperatures plunged as low as -5 degrees Celsius overnight in wine regions including Chablis, in Burgundy, and Bordeaux, which could hurt shoots already well-developed because of earlier mild weather.
Outside Chablis, known around the world for its fruity, acidic white wine, a deep orange glow from tens of thousands of candles hung over the rolling vineyards in the early hours.
Winemaker Laurent Pinson said he had put between 300 and 600 large candles — burning cans of paraffin — across many of his 14 hectares of vines.
"The harvest is at stake over a few nights — one, two or three nights — and if we have no harvest, that means no sales, no wine for consumers," Mr Pinson said.
---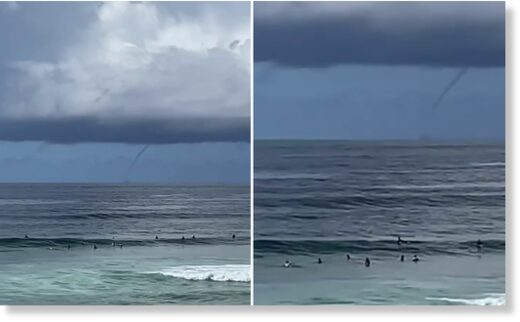 A Sydney woman could hardly believe her eyes when she spotted a spinning column moving across the sea.
Kasia Kapusta, 43, spotted the so-called waterspout off the coast at Maroubra Beach on Tuesday morning.
"It looked incredible," she said.
"I've been living in Maroubra for five years and I've never seen anything like it."
Waterspouts are a form of wind vortexes that form over water, scooping up the liquid and dragging it towards the sky.
Comment:
Another was filmed in the area on April 8:
---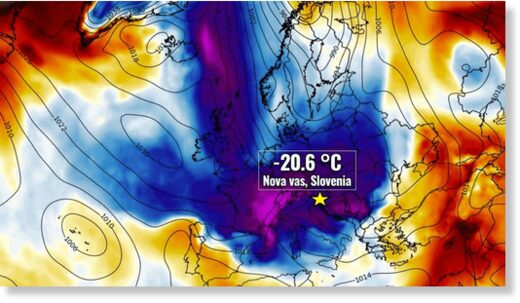 Many areas in Slovenia reached their coldest April morning over the last 100 years! The official meteorological station Nova vas na Blokah peaked at -20.6 °C which has set a new all-time national record for the month of April since the records began.
Numerous extreme cold records also across other parts of central and western Europe, deep freeze and morning frosts have been destructive.
As we expected, the weather models were not wrong this time. An unpreceded extreme cold has verified across many parts of Europe this Wednesday morning, following the significant and historic snow a day before
. Snowfall with some accumulation was reported even at the seaside in Slovenia and Croatia islands (Kvarner area).
In Slovenia, the weather station Nova vas na Blokah hit -20.6 °C and set the new official lowest temperature for April (the previous record at the station Nova vas was -18.0 °C set on April 4th, 1970). There was another record of -26.1 °C recorded with an unofficial weather station in the village Retje near Loški Potok.

Comment: The amazing thing isn't even the record cold - it's the flip from record heat to record cold in just 6 days!


---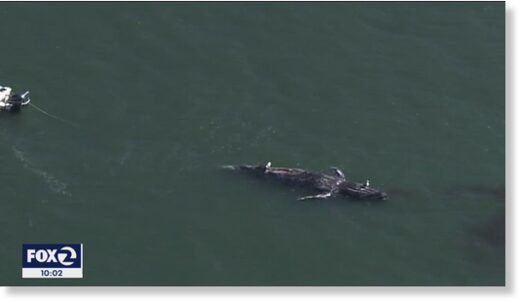 Three gray whales have been found dead in and around the San Francisco Bay in the past week. It's raising concern among marine scientists who said that number is alarming.
It's the start of the whales' northern migration. The center expects one or two whales to wash ashore in a couple weeks but three within a week is a lot. It's reminiscent of 2019 when there was a high number of whale deaths in the Bay.
In scenic San Francisco Bay lies a sad discovery Wednesday, the carcass of a 33-foot male gray whale.
"These creatures, they are such magnificent creatures and to see them dead like this is really heartbreaking," said Sea Valor CEO/Founder Eric Jones.
---
---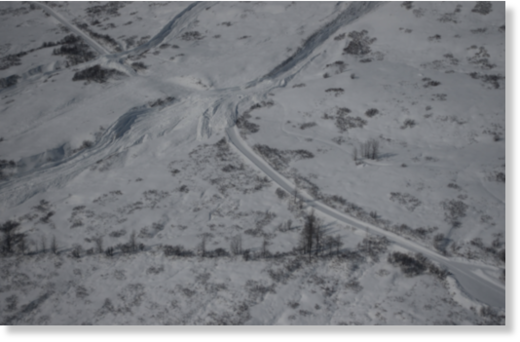 A rare cascade of avalanches over the weekend has shut down the Hatcher Pass Road, and it will remain closed for several days as crews wait for conditions to stabilize before clearing avalanche debris.
Forecasters with the Hatcher Pass Avalanche Center say that
five different avalanches crossed the upper stretch of the road, and one of those extended so far that it hit a second, lower stretch of the road, beneath a switchback. The center, in a Facebook post, said that was the first time such a slide had taken place since the 1980s.
Photos posted by the center show ribbons of avalanche debris covering the upper stretch of the road in several areas, as well as massive piles of snow burying large stretches of Archangel Road, which is groomed for skiing and walking during the winter.
---
Richard Davies
Floodlist
Tue, 06 Apr 2021 12:01 UTC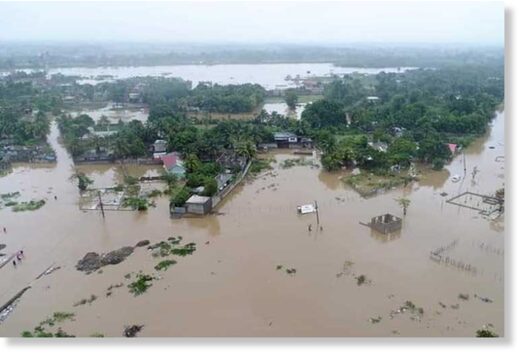 Civil Protection in Haiti reported on 05 April 2021 that at least 3 people have died and 3 are missing after days of heavy rain caused flooding in northern and central areas of the country.
The Civil Protection Agency said heavy rainfall began on 02 April 2021. As of 05 April, flash floods and overflowing rivers were reported in Centre, Nord, Nord-Est and Nord-Ouest departments.
One person was killed and 149 homes damaged after floods in Jean-Rabel commune in Nord-Ouest department. Two deaths were recorded in the commune of Bois de Lance in Nord Department, with three people also reported missing. More than 1,270 houses were flooded in the municipalities of Terrier-Rouge, Caracol and Trou-du-Nord in Nord-Ouest. Around 137 families were evacuated in Terrier-Rouge and Caracol.
---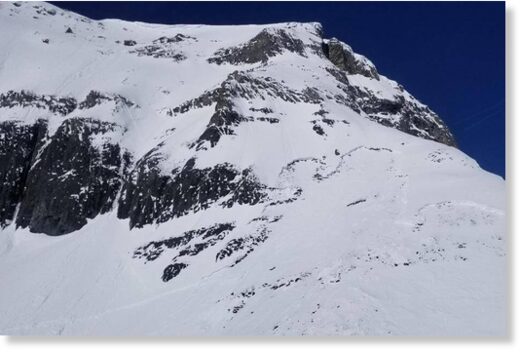 One skier managed to escape, but the second was swept away and killed in the slide
A skier from Alberta has died in an avalanche while he and another skier were on a mountain in Banff National Park.
Parks Canada says two male skiers from Canmore, Alta., were on the northeast face of Haddo Peak in the Lake Louise area on Monday when the avalanche was triggered.
---