Hundreds of birdwatchers have gathered in a Cornish village to catch a glimpse of a rare snowy owl.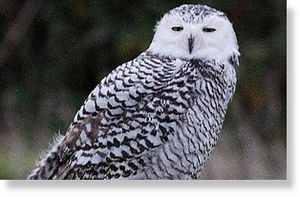 The bird, which is a native of the Arctic Circle, and is usually found in Greenland, Canada and Russia, has been seen at Zennor, near St Ives.
It is the first time in 60 years one has been seen in Cornwall.
In Britain, the snowy owl is usually only a rare winter visitor to Shetland, the Outer Hebrides and the Cairngorms. On average there are between one and four seen each year in the United Kingdom.
The young owl was believed to appeared in Cornwall after being blown off course by storms. Birdwatchers said it appeared to be content, and at home in the freezing temperatures.