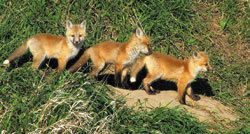 ©Bill Stilwell
Red fox pups frolick outside den
Unusual, unique, rare and exciting wildlife sighting are taking place throughout rural Manitoba this spring. Topping the list is a cougar sighting near Plum Coulee, but that is far from the only interesting report.
Near Deleau, Manitoba, a white-faced ibis was photographed recently. While this is unusual, these birds have been spotted at Whitewater Lake for several consecutive years. Perhaps they are expanding their range.
According to information on the Manitoba Museum of Man and Nature website, the ibis is listed as "accidental" in Manitoba. Sightings are "infrequent and far outside the usual range and includes species recorded once or twice or only at very great intervals."