Earth Changes
AP
Wed, 23 Aug 2023 17:12 UTC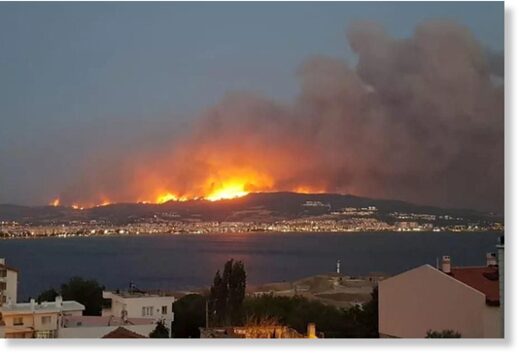 Efforts to contain a wildfire in Turkey's northwestern Canakkale province continue on Wednesday, as several villages are evacuated. (August 23).
---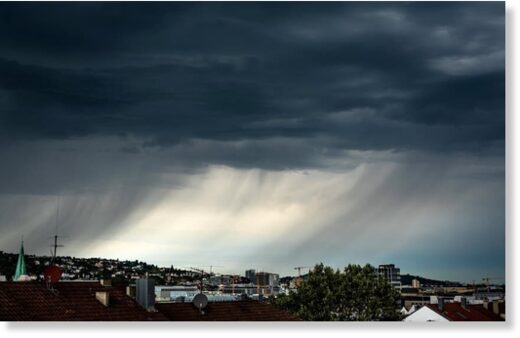 After a hot spell across the country, torrential rain and thunderstorms moved into the southern half of Germany on Thursday night, injuring at least 16 people.
Several trees came down at a campsite in Lindau on Lake Constance, resulting in six people getting injured, one of them seriously.
For security reasons the authorities cleared the site and around 900 campers spent the night in a public hall.
A campsite in Friedrichshafen on Lake Constance was also evacuated, with around 300 people having to spend the night in a gym hall. No injuries were reported.
---
cbc.ca
Tue, 22 Aug 2023 12:22 UTC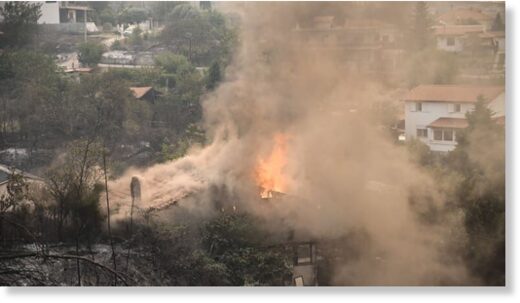 Greek firefighters found the bodies of 18 people in an area of northeastern Greece ravaged by a major wildfire burning for days, authorities said Tuesday.
Greek police activated the country's Disaster Victim Identification Team to identify the bodies, which were found near a shack in the Avanta area in the northeastern Alexandroupolis region, Ioannis Artopios, a spokesperson for the fire department, said in a televised statement.
Given no reports of missing people had been filed in the area, authorities were examining the possibility the casualties were migrants who had entered the country from the nearby border with Turkey, Artopios said.
Hot, dry and windy conditions have seen dozens of wildfires break out across the country. On Monday, two people died and two firefighters were injured in separate fires in northern and central Greece.
---
Elizabeth Wolfe and Robert Shackelford
CNN
Fri, 25 Aug 2023 11:44 UTC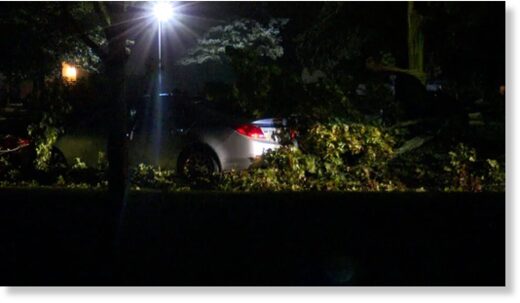 Just under 700,000 homes and businesses are without power in parts of Michigan and Ohio early Friday as a forceful round of severe thunderstorms has brought heavy rains, strong winds and at least one confirmed tornado to the region.
The storms marched from southern Michigan into Ohio overnight, threatening powerful wind gusts of up to 85 mph, hail up to 1.5 inches in diameter and possible tornadoes. Northern portions of Ohio are under flood watches until 8 a.m. ET Friday due to excessive rainfall.
A large and "extremely dangerous" tornado was confirmed near Williamston, Michigan, in Ingham County at about 9:30 p.m. Thursday, according to the National Weather Service Offices in Detroit and Grand Rapids.
---
Bryan Henry
wbrc.com
Fri, 25 Aug 2023 11:34 UTC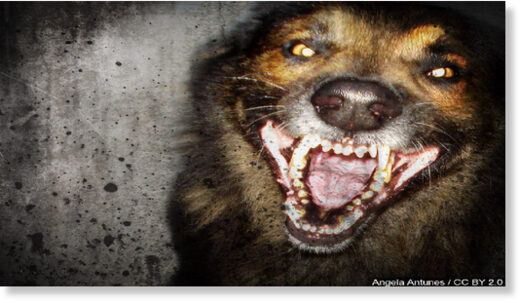 A Fayette County man is in critical condition after his family says he was attacked by a pack of dogs this week. It happened in Berry.
The mere thought of what happened to 52-year-old William Traweek horrifies his niece Angel Traweek. It was on Crow Avenue, not even a mile from downtown Berry, where five dogs attacked Traweek on Monday, August 21.
"I can't imagine him getting drugged down here by multiple dogs," said Angel Traweek.
And that is precisely what happened, according to the police department. Police Chief Gerald Dedeaux says William Traweek had car trouble and decided to walk the half-mile or so to his brother's house. That's when it happened; a vicious attack, bloody and scary.
The dogs pulled the man some 25 yards from the original point of attack.
---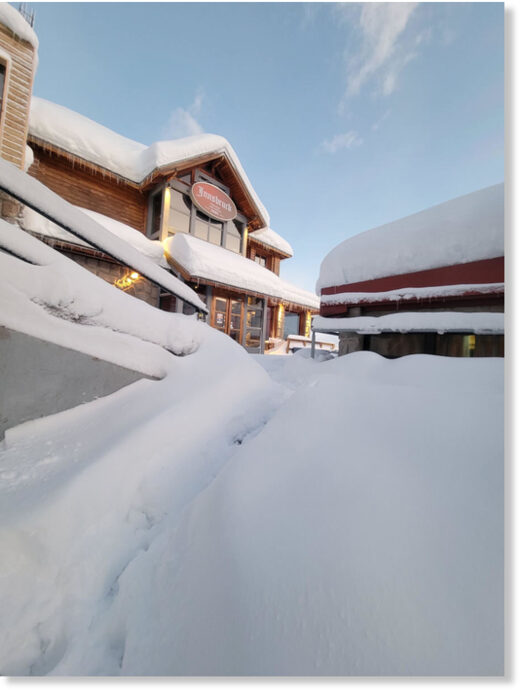 In the latest
SnowBrains Forecast
, we knew it was going to be a busy week for South America. A powerful storm was coming in with the possibility of many resorts seeing 3-6 feet of snow with some seeing as much as 9-12 feet or more.
The forecast may have materialized the most at Las Leñas Resort in Argentina when it reported over 11 feet of new snow at mid-mountain over the last four days
. You can tell they were excited when they posted on their Instagram page earlier this week with the caption "This is how we are today August 22. It's the moment!"
---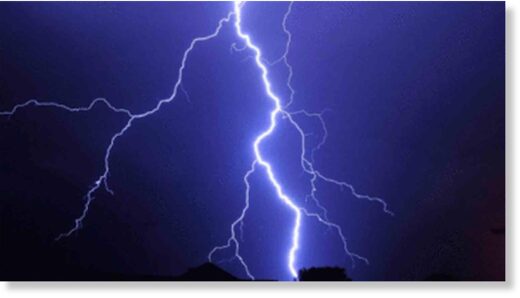 An unresponsive 73-year-old woman found outside a Florida condominium building is the nation's 10th lightning fatality of 2023, according to the National Lightning Safety Council.
It happened late Wednesday, Aug. 23, on Sand Key in Clearwater, just west of Tampa.
"She was found dead on a sidewalk in her condominium complex," police said in a news release.
A passerby at Bayside Gardens IV discovered Kathleen M. Carrick's body around 7:45 p.m. "after storms rolled through the area," WTVT reports.
---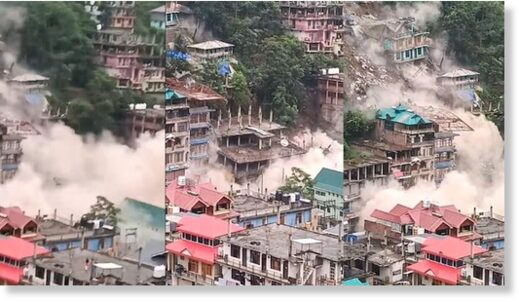 Scary visuals from Himachal Pradesh surfaced on social media on Thursday which showcased multiple buildings collapsing like a deck of cards in Anni town of Kullu district. Kullu buildings collapse took place due to a landslide which left a massive trail of dust and debris.
As per reports, emergency response teams, such as the National Disaster Response Force (NDRF) and the State Disaster Response Force (SDRF), have been deployed to rescue those who are feared trapped in the landslide. Now, the Kullu buildings collapse video is spreading like wildfire on social media with netizens shocked and slamming the government over unplanned infrastructure in the hilly areas.
---
BBC
Wed, 23 Aug 2023 12:18 UTC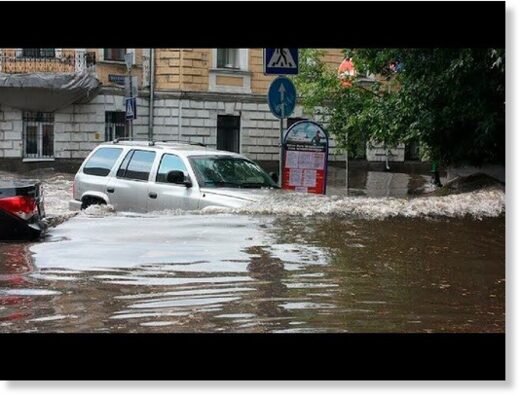 A tour guide and all seven members of their party have been found dead after being trapped underground by flood waters in Moscow's sewer system, Russian media say.
Sunday's floods, caused by heavy rain,
were so rapid people could not escape.
The group was exploring the underground Neglinka, a tributary of the city's main river, the Moskva.
The search operation had ended and efforts were being made to formally identify the dead, investigators said.
---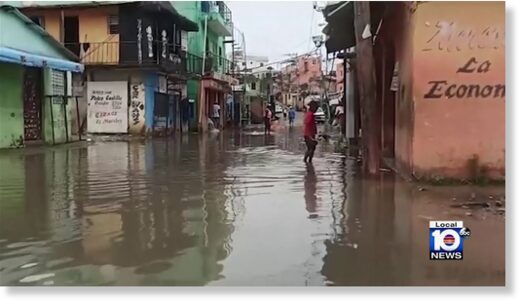 T​ropical Storm Franklin dumped torrential rain on the Dominican Republic, where at least one person died and two others were reported missing.
The Civil Defense said a man identified as Carlos Marino Martínez died in the city of San Cristobal after being swept away by floodwaters. The agency initially said he was one of its volunteers, but later corrected the information saying it misidentified a uniform he was wearing. They did not provide further details. Two women in that city also were injured following a landslide, officials said.
"Franklin is now located north of the Dominican Republic, but outer bands from the system could bring some localized additional heavy rain Thursday," said weather.com senior meteorologist Chris Dolce. "That might cause isolated flooding in areas that are vulnerable because of Wednesday's soaking."
---