An extraordinarily diverse array of marine life has been discovered in the deep, dark waters around Antarctica.
Scientists have found more than 700 new species of marine creatures in seas once thought too hostile to sustain such rich biodiversity.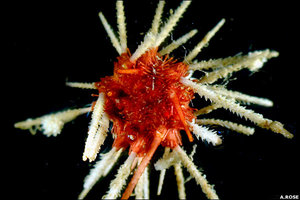 ©A. Rose

The research, which uncovered creatures such as this Ctenocidaris, formed part of the Andeep (Antarctic benthic deep-sea biodiversity) project. It is the first comprehensive look at marine life in these waters.