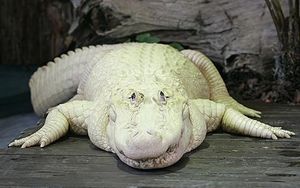 A white alligator, one of only 12 of its kind anywhere in the world, has been brought in from the swamps of Louisiana.
With its piercing blue eyes and pale skin this rare Alligator stands out like a sore thumb.
Weighing over 500 pounds, 22 year old male Bouya Blan is one of only 12 white alligators in the world.
The 500lb, 22-year-old male alligator, Bouya Blan, whose name means white fog, is kept at the Gatorland theme park in Florida.
He is one of four giant
leucistic
alligators kept at the park.