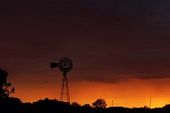 A series of powerful storms packing heavy rains and frequent lightning strikes grounded dozens of flights, left hundreds of thousands without power and caused widespread damage across portions of Texas on Thursday.
No deaths or injuries were reported from the storms that began whipping the Dallas-Fort Worth area Wednesday night with winds up to 70 mph. By the time the storms cleared the city, some areas of Dallas got more than 8 inches of rain.
More than 180,000 homes and businesses were without power Thursday night, said Megan Wright, a spokeswoman for Oncor Electric Delivery.
More than 400 flights were canceled Thursday at Dallas-Fort Worth International Airport before they resumed operating later in the day. Ground workers were brought in from outside part of the day because of lightning in the area, said airport spokesman David Magana.
Southwest Airlines, which flies out of Dallas Love Field, canceled 21 flights Thursday because of the weather - 15 of those were in Dallas. Another 13 planes were diverted in the height of the morning's storms and dozens of flights were delayed across the country, company spokesman Brad Hawkins said.
"They expected the storms to develop and move through, then they just parked," he said. "That's what threw everything for a loop."
Dallas workers were trying to repair a pump that moves groundwater from a west Dallas neighborhood into the Trinity River after the pump was struck by lightning. Another pump was still working. city spokeswoman Danielle McClelland said.
"We just hope this rain holds off so we can get this one pump fixed. We're in a wait and see mode," McClelland said.
The marina at Eagle Mountain Lake in Fort Worth sustained millions of dollars worth of damage and was closed. The storms damaged the marina's roof, smashed docks and turned boats upside down, the
Fort Worth Star-Telegram
reported.
Michelle Levitsky, of Frisco, just north of Dallas, says the winds bewildered her farm animals.
"When the storm hit, they started running around, running into each other.
The goats were being knocked over and tumbling. The chickens - we had their wings clipped - they were in the air, just being picked up by the wind
," she told KDFW-TV of Dallas and Fort Worth. She said all survived.
A second wave of severe weather took aim on Central Texas late Thursday, downing trees and power lines in Burnet County and forcing authorities in Williamson County to reroute 911 calls.