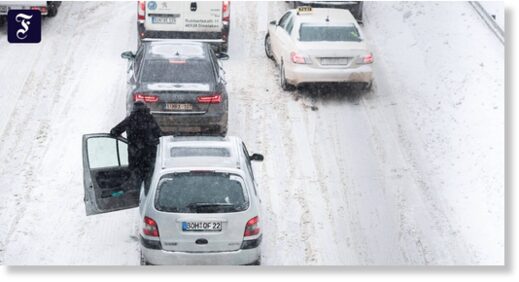 Long traffic jams built up on motorways in several regions of Germany due to the freezing conditions, leaving hundreds of people stranded in their cars.
The worst log jam came on the A2 motorway outside Bielefeld, in North Rhine-Westphalia where an enormous 37 kilometre line of traffic built up on both sides of the road on Monday night.
The queues stretched all the way into the state of Lower Saxony and had still not been cleared by Tuesday morning.
The A2 was blocked in both directions due to trucks coming to a standstill in the snow and not being able to get out.
Police reported that hundreds of drivers had to spend the night in their cars.

Video footage showed shivering drivers huddled in their vehicles, complaining of going for hours without food as temperatures plunged to minus 12 degrees Celsius.