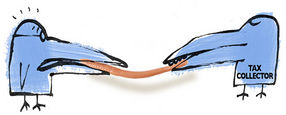 On these taxing days, when we become a defiantly bipartisan nation of whiners convinced that we are handing over to the Internal Revenue Service our blood and sweat and mother's milk, our pound of flesh and firstborn young, maybe it's time for a little perspective.
Legions before us have donated all these items and more to the public till, and not just metaphorically speaking, either. Benjamin Franklin was right to equate paying taxes with a deeply organic behavior like dying. It turns out that giving up a portion of one's income for the sake of the tribe is such a ubiquitous feature of the human race that some researchers see it as crucial to our species' success. Without ritualized taxation, there would be precious little hominid representation.
Moreover, plenty of nonhuman animals practice the tither's art, too, demanding that individuals remit a portion of their food, labor, comfort or personal fecundity for the privilege of group membership. And just as the I.R.S. depends on threat of audit as much as it does on anybody's sense of civic responsibility, so do other toll-collecting species ensure compliance by meting out swift punishment against tax cheats. For example, Marc Hauser of Harvard University has found that when a rhesus monkey is out foraging and comes upon a source of especially high-quality food, like, say, a batch of ripe coconuts, the monkey is expected to give a characteristic food call to alert its comrades to the find. "The bad thing about doing a food call is that it means others will come and take some of the food," said Laurie R. Santos, who studies the primates at Yale University. Yet a monkey who opts to keep mum about its discovery could face worse. Should other group members happen by while the private feast is under way, they will not only claim the food for themselves, but the most dominant among them will also beat the cheater indignantly.