Earth Changes
About 600 people remained without power Sunday morning following powerful monsoon thunderstorms that rolled through Yuma.


---
Madelene Pearson
Bloomberg
Sun, 02 Sep 2007 05:43 UTC
An earthquake with a magnitude of 6.9 struck beneath the Pacific Ocean off the Solomon Islands, the U.S. Geological Survey said today on its Web site.
The earthquake hit 96 kilometers (60 miles) south of Lata, Santa Cruz Islands in the Solomon Islands at 12:05 p.m. local time, the Web site said. It occurred at a depth of 35 kilometers, it said.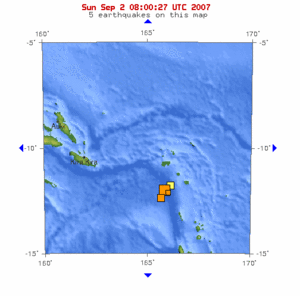 ©USGS
---
USGS
Sun, 02 Sep 2007 00:20 UTC
Magnitude 6.3
Date-Time

Saturday, September 01, 2007 at 19:14:22 UTC


Location 24.788°N, 109.727°W
Depth 10 km (6.2 miles) set by location program
Region GULF OF CALIFORNIA
Distances

* 90 km (56 miles) NE (40°) from La Paz, Baja California Sur, Mexico
* 133 km (83 miles) SW (215°) from Los Mochis, Sinaloa, Mexico
* 137 km (85 miles) SSW (204°) from Ahome, Sinaloa, Mexico
* 1116 km (694 miles) SE (139°) from Tijuana, Baja California, Mexico


---
LINDA STRAKER
AP
Sat, 01 Sep 2007 23:57 UTC
Hurricane Felix gathered strength Saturday and pounded Grenada with heavy rains and winds, snapping small boats loose from their moorings and toppling utility poles on its route toward the Caribbean island of Aruba.

The storm was upgraded from a tropical storm to a Category 1 hurricane Saturday evening, with sustained maximum winds near 75 mph. It was expected to strengthen even further as its outer bands started lashing the islands of Aruba, Bonaire and Curacao overnight. All three islands were under a hurricane watch.
---
Dozens of dead dolphins washing up along the Mediterranean coast have alerted environmentalists to a virus they fear will become an epidemic, El Mundo newspaper reported on Wednesday.

The region's striped dolphins, a protected species, are being infected with a virus which has not been identified and has so far killed several dozen animals along the coast and may spread, the report said, quoting environmental experts.
---
Samantha Zee
Bloomberg
Fri, 31 Aug 2007 10:02 UTC
California's central and southern regions are baking in a late summer season heat wave that's knocked out power in some areas and left others sweltering in temperatures above 100 degrees Fahrenheit this week.

A hot-air mass is settling over California's Central Valley, while moisture surging north will increase humidity, the National Weather Service in Hanford, California, said in a heat advisory posted earlier today. The heat index, a measure of temperature and humidity that represents how hot it feels, will remain above 110 degrees Fahrenheit (43 degrees Celsius) through tomorrow before cooler air moves into the region, the service said.
---
---
The earth opened Wednesday night and gobbled up Rodrigo Coronado's bathroom.

On Thursday, it took his refrigerator.

It swallowed his furniture, clothing and 2-year-old son's toys. From time to time, it threatened to take more -- evident by the creaking walls.
---
Rob Taylor
Reuters
Tue, 28 Aug 2007 08:49 UTC
But years of drought, which some blame on global warming, have savagely depleted the huge dams built 60 years ago to hold the snow melt from the Australian alps and push it hundreds of kilometers inland to the parched west for farm irrigation.

The Murray-Darling normally provides 90 percent of Australia's irrigated crops and A$22 billion ($18.1 billion) worth of agricultural exports to Asia and the Middle East.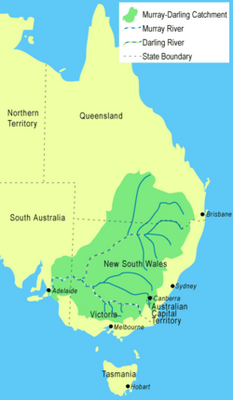 ©Unknown
Murray-Darling Basin.


But with some crops now just 10 days from failure, farmers are to receive no water at all for irrigation through the summer, while others will get a fraction of their regular entitlement to keep alive vital plantings like citrus trees and grapevines.
---
Nidhi Sharma
AHN
Thu, 30 Aug 2007 17:52 UTC
U.S. space agency NASA has predicted more violent storms and tornadoes for the United States as the global warming continues to make the earth's climate warm.

The latest forecast was predicted by a new climate model developed at NASA's Goddard Institute for Space Studies by researchers Tony Del Genio, Mao-Sung Yao and Jeff Jonas.

"The strongest thunderstorms, the strongest severe storms and tornadoes are likely to happen more often and be stronger," Associated Press quotes Del Genio as saying.
---