Power supplies, hospitals, schools, clean water and emergency services for millions of Britons are ' dangerously vulnerable' to flooding, official figures reveal today.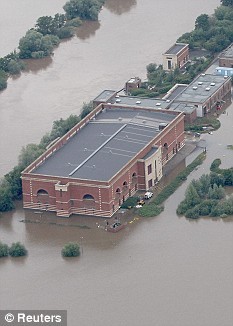 ©Reuters
Havoc: The water treatment works at Tewkesbury in Gloucestershire under water last year
Vital infrastructure on flood plains remains unprotected and threatened, despite the havoc caused by last July's record rains and the increasing frequency of extreme weather.
Buildings at 'significant' risk include 2,215 electricity substations, at least 400 schools, 227 care homes for the elderly, 13 hospitals, five gas works and 737 water treatment works.
The emergency services that would have to deal with any extreme weather event are themselves vulnerable - with 46 ambulance stations, 86 fire stations and nearly 100 police stations exposed to rising waters.
At least 900 miles of railway line, 222 railway stations and hundreds of miles of road could also be put out of action.
The Conservatives - who obtained the figures - called on the Government to take the threat of floods more seriously.
Tory environment spokesman Peter Ainsworth said: ' Hundreds of our most important services are dangerously vulnerable to flooding and unless urgent action is taken emergency facilities, schools, hospitals and power stations will face closure under extreme weather conditions.
'Alarmingly, ambulance and fire stations are among those at risk. The Government must prepare for the increasing likelihood of heavy rainfall and stop dithering on vital measures needed to improve flooding resilience.'
Last summer's floods wiped out a water treatment plant, leaving 350,000 in Gloucestershire without drinking water for more than two weeks. Nearly 50,000 homes in the county had no electricity while protection work was carried out on a sub-station.