The Windy City and northern Illinois were braced for a second punch Friday after a sudden storm with 70 mph wind slammed into the Chicago area Thursday evening, tearing down huge trees and damaging buildings.
In the suburbs Thursday, part of an industrial facility's roof collapsed, injuring 40 people, and a tornado struck western Michigan, downing about 700 trees in Montcalm County.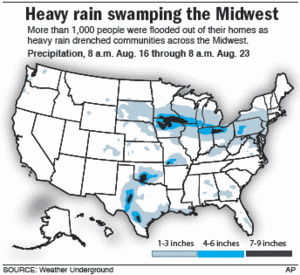 ©Weather Underground
Early Friday, another band of thunderstorms dumped more rain along a line from southern Iowa into Wisconsin.