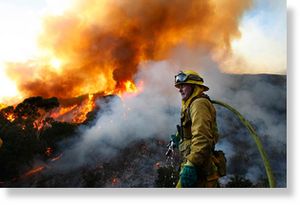 The Station fire grew to more than 122,000 acres overnight and continued to burn out of control despite some signs of improving weather conditions.
The massive blaze, which has burned more than 50 structures, killed two firefighters and caused thousands of evacuations, grew by about 15,000 acres over the last 12 hours. That's a smaller rate of growth than Sunday or Monday, but officials are still on guard.
[Updated at 7:20 a.m.: At a briefing this morning, officials said they were growing more optimistic about the fire. They said firefighters were set backfires overnight in areas of Glendale, Tujunga and the Santa Clara ridge. More moisture in the air was slowing the blaze. Although temperatures are cooling, officials said they worried about the possibility of gusty winds and dry lightning. No new structures were burned overnight. The fire is 5% contained, but officials expect that number to grow significantly today.]
The fire this morning was bearing down on neighborhoods in Tujunga, where homes have been evacuated.