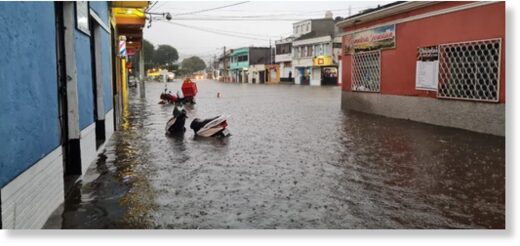 Severe weather in Guatemala from 21 to 24 May 2021 affected over 10,000 people and damaged more than 200 homes across the departments of Baja Verapaz, Izabal, Petén, Quetzaltenango, San Marcos, Santa Rosa, Sololá and Suchitepéquez, disaster officials said.
According to reports from the country's disaster agency CONRED, severe weather including heavy rain, landslides, flash floods, coastal flooding and strong winds, affected a total of 10,571 people, displaced 483, injured 1 person and damaged 217 homes.
Heavy rain on 22 May caused flooding and mudflows in the department of Quetzaltenango, leaving a total of 1,300 affected, 300 people evacuated and 50 homes damaged. Videos shared on Social Media showed dramatic images of flood waters flowing through streets in Almolonga municipality. Quetzaltenango department had seen heavy rain and flooding the previous week when 235 people were affected, mostly in San Miguel Sigüilá, 15 to 16 May.