Residents of Sde Boker, Mitzpe Ramon, and other areas in southern Israel awake to fresh coating of snow. Schools in capital closed, bus service to Jerusalem canceled.
Residents of Mitzpe Ramon, Arad and Sde Boker in southern Israel awoke Thursday to a fresh coating of snow that started falling Wednesday night. Schools were closed in Arad and Mitzpe Ramon, as well as in the snow-covered capital Jerusalem.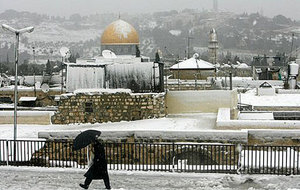 ©Reuters
Capital cloaked in white
Northern Israel, including areas in the Galilee and the Golan Heights also received their fair share of snow, leading to school closing and bus-service cancellations.
Due to the heavy snow in the capital, bus service to and from Jerusalem has been canceled, reports the Egged Bus Company spokesman. Many areas in northern Israel, including Safed and the Golan Heights, will also have no bus service due to the snow, as will Arad in the south.