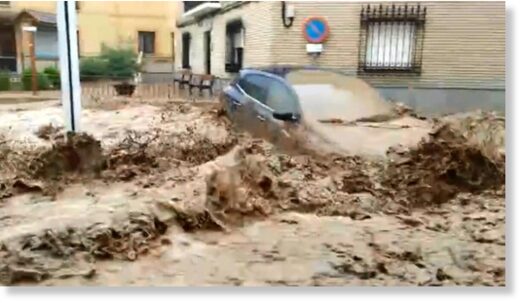 Heavy rainfall on Wednesday caused flooding in parts of central and eastern Spain. The provinces of Tarragona, Castellón and Toledo were particularly affected by the storms, while in Madrid the rising waters flooded homes and created significant traffic disruption.
On Thursday, parts of mainland Spain as well as the Balearic Islands were on the national weather agency Aemet's yellow alert level for rain and thunderstorms.
Train services were still affected on Thursday morning. At 8.30am, the railway company Renfe notified interruptions on the high-speed Madrid-Toledo line between the stations of La Sagra and Toledo, as well as additional disruptions on the Tarancón-Huete line (between Aranjuez and Cuenca) and the Teruel-Zaragoza line (at Cariñena).
In Catalonia, weather stations recorded rainfall of 77mm in just 30 minutes

. The heavy rain triggered flash floods on city streets and damaged ground-floor properties in municipalities of the Montsià and Baix Ebre areas of Tarragona province. In the small coastal town of Alcanar (population 9,300), record rainfall of 167mm caused flash floods that dragged vehicles out to sea.