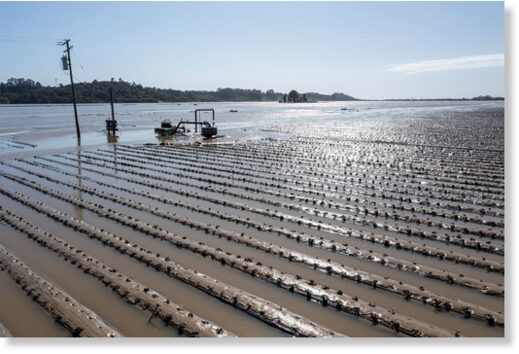 Too much thing, rain, is sinking farmers' bottom lines across California's Central Coast. The area some call "America's salad bowl" more resembles a soup bowl as round after round of atmospheric river-fueled storms overwhelmed farmland. We all may start to notice a difference in the grocery store as some staples become harder to find.
FOX Weather brought you to Pajaro, California when the levee failed recently. The farming community in the Pajaro River Valley disappeared under feet of water. Similar scenes played out across the Salinas River Valley, another iconic farm area in Monterey County which is the fourth top agricultural producer in the state, according to the California Department of Food and Agriculture.
"For the farms that were flooded, this catastrophe hit at the worst possible time," said California's Strawberry Commission President Rick Tomlinson in a
statement
. "Farmers had borrowed money to prepare the fields and were weeks away from beginning to harvest."
Acre after acre of strawberries and lettuces are literally underwater at a time when farmers should be getting ready to harvest.
While the state grows about half of all the fruit and vegetables for the country, Monterey County is responsible for over
$4 billion in revenue primarily through strawberries, lettuce and broccoli.