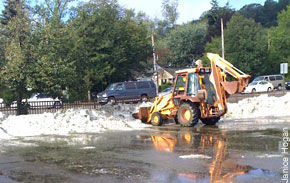 It was Christmas in July for some Westchester County residents.
A wintry mix of hail and heavy thunderstorms downed trees and utility poles in Yonkers last night -- causing mountains of slush and ice to build up in parking lots and on grassy areas.
Police said at least two homes were damaged by falling sleet, which hit the area at 11:30 p.m.
Snow plows were called in early this morning to help remove the snow, while extra fire trucks were on hand to help with the unseasonal cleanup.