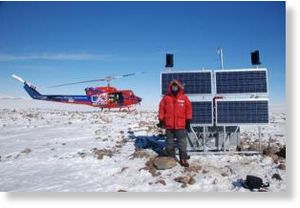 As ice melts away from Antarctica, parts of the continental bedrock are rising in response -- and other parts are sinking, scientists have discovered.
The finding will give much needed perspective to satellite instruments that measure ice loss on the continent, and help improve estimates of future sea level rise.
"Our preliminary results show that we can dramatically improve our estimates of whether Antarctica is gaining or losing ice," said Terry Wilson,* associate professor of earth sciences at Ohio State University.
These results come from a trio of global positioning system (GPS) sensor networks on the continent.
Wilson leads POLENET, a growing network of GPS trackers and seismic sensors implanted in the bedrock beneath the West Antarctic Ice Sheet (WAIS). POLENET is reoccupying sites previously measured by the West Antarctic GPS Network (WAGN) and the Transantarctic Mountains Deformation (TAMDEF) network.