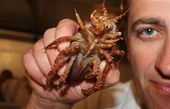 Thriving only in near-freezing waters, creatures such as Antarctic sea spiders, limpets or sea urchins may be among the most vulnerable on the planet to global warming, as the Southern Ocean heats up.
Isolated for millions of years by the chill currents, exotic animals on the seabed around Antarctica -- including giant marine woodlice and sea lemons, a sort of bright yellow slug -- are among the least studied in the world.
Now scientists on the Antarctic Peninsula are finding worrying signs that they can only tolerate a very narrow temperature band -- and the waters have already warmed by about 1 Celsius (1.6 Fahrenheit) in the past 50 years.