Comment: But don't worry because the authorities have offered you two choices: you can either a.) believe humanity in some general way caused it by producing too much CO2, or b.) believe arsonists caused it. Either way, rest assured that Man is in control and there is still no God...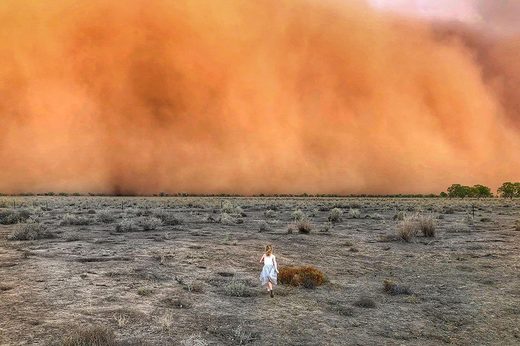 "Apocalyptic" dust storms swept across drought-stricken areas of Australia over the weekend, with thunder and giant hail battering the east coast, as extreme weather patterns collided in the bushfire-fatigued country.
The southern city of Melbourne was lashed by huge hailstones late Sunday and fire-ravaged parts of Victoria state overnight received heavy rainfall, prompting new extreme weather alerts.
Australia has since October been overwhelmed by an unprecedented bushfire season made worse by climate change.
Swathes of the country have burned, hundreds of millions of animals have died, more than 2,000 homes have been destroyed and at least 29 lives have been lost.
Dramatic images captured over the weekend from western New South Wales show a massive wall of dust rolling through outback towns.
Locals reported being cast into darkness in the middle of the day.